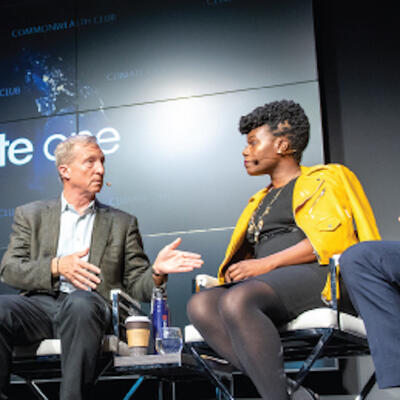 Climate One from the Commonwealth Club
Position Description 
POSITION TITLE: Audio Editor & Producer 
REPORTS TO: Executive Producer 
MISSION: 
Climate One is the premier platform for the conversation about climate disruption. Through our podcast, national radio show, and live convenings for thought leaders and concerned members of the public, we create opportunities for dialogue, exchange, and reflection that deepen understanding and catalyze solutions. 
VISION: 
We envision a world where a clear-eyed awareness of the climate crisis shapes decisions ranging from personal behavior to public policy and where the full spectrum of humanity's wisdom, talent, and expertise is marshaled toward the wellbeing of all life on Earth. 
POSITION OVERVIEW: 
The Audio Editor & Producer helps develop weekly programs in collaboration with the Climate One team. Once the interviews are recorded, the Audio Editor & Producer is primarily responsible for audio production and sound design. The Audio Editor & Producer is also a lead script writer. 
Climate One is based in San Francisco at The Commonwealth Club of California, a non-profit and non-partisan public forum. Audio Editor & Producer Applicants can be based anywhere and are expected to work in San Francisco a few weeks a year to build team cohesion. 
Status: Salaried, Exempt 
Schedule: Full time. 
Salary/Compensation: $55,000 to $72,000. 
Full health, dental, and vision benefits, and 401K plan with 4% employer match.
OPPORTUNITY 
We're building a workplace where collaboration is essential, diverse voices are heard, and inclusion is the key to our success. We are seeking a motivated and talented producer who will help shape the most important conversation of our time, and help us lift up underrepresented voices. 
RESPONSIBILITIES: 

Audio Editing: 
Perform weekly audio technical and content editing 
Produce setup pieces with archival sound and guest interviews 
Produce weekly radio promos 
Production:
Collaborate with producers on developing episode topics, guests and structure
Draft scripts for billboard, show intro, and host-read copy 
Ensure that audio quality meets NPR standards
Ensure audio editing processes and deadlines are met
QUALIFICATIONS: 
Bachelor's degree in journalism or related field preferred. 
High standards as a skilled, meticulous audio editor. 
Experience editing interviews for continuity, accuracy and time with excellent attention to detail.
Substantive knowledge preferred of climate-related issues ranging from food, energy, water, transportation, urban development, clean technology, etc. 
WORK EXPERIENCE: 
Minimum of three years of experience in broadcast journalism, with at least two years experience in climate-related fields of energy, environment, food, water, transportation or other sustainability field. 
REQUIRED SKILLS AND ABILITIES: 
Excellent written communications
Experience working effectively independently with limited direction, as well as with others as part of a team. 
Experience as part of a production team producing radio interviews and writing scripts.
Ability to collaborate with freelance journalists as well as the staff team. 
Ability to work well under pressure while juggling different programs on varied schedules.
Experience posting files to RSS feeds, Content Depot, and PRX. 
Required technical skills: Proficient using ProTools, experience working with the NPR clock, knowledge of Microsoft Office Suite, Google Drive, and content management systems. Experience with video editing tools is a plus. 
TO APPLY:
Interested candidates should submit a single PDF attachment that includes the following:
1) A cover letter
2) Your resume
3) Links to two audio samples (please specify your role in producing them)
4) A writing sample specific to podcast or radio (such as a script)

Please send application to gdalton.climateone@gmail.com with the subject line "Audio Editor & Producer".
Application deadline: Open until filled 
Inclusion and respect are core values of Climate One from The Commonwealth Club. We have a small team that enjoys working together and is treated fairly. We are an Equal Employment Opportunity employer that is keen to have a diverse workforce and we encourage individuals of color, LGBTQ and women to apply. 
Thank you in advance for your interest in Climate One. Due to the volume of applicants, only candidates who will be invited to interview will be contacted. Position is open until filled.