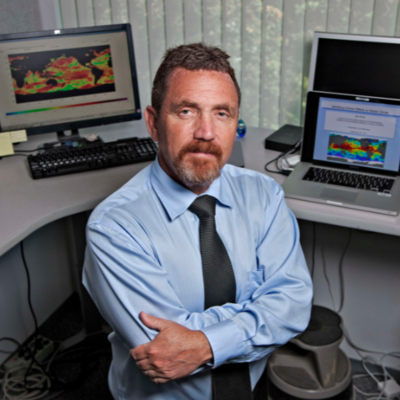 Ben Santer: 2023 Stephen Schneider Award for Outstanding Climate Science Communication
Tuesday December 12 2023 | 06:00 PM
In-Person Ticket
Online Ticket
Add to Calendar
Event Details

5:30 p.m. check in
6:00 p.m. program
7:00 p.m. networking reception

Also know: The speakers and audience will be videotaped for future broadcast on the Climate One TV show on KRCB TV 22.

Location

110 The Embarcadero, San Francisco CA 94105
Description

Climate One is delighted to present the 2023 Stephen H. Schneider Award for Outstanding Climate Science Communication to atmospheric scientist Ben Santer.

Ben Santer has spent decades researching and identifying the human fingerprints on the climate system changes we're now all seeing. He was lead author on the historic 1995 conclusion of the Intergovernmental Panel on Climate Change, which proclaimed that "the balance of evidence suggests a discernible human influence on global climate." That was the first time the IPCC authoritatively stated humans are causing climate change. At the time, Stephen Schneider told Ben Santer that the sentence he wrote would change the world. Santer's foundational work also laid the groundwork for the expanding field of attribution science, which enables activists and lawyers to ascribe proportionate blame to specific polluters in lawsuits demanding damages for climate-disrupting emissions.

Join us for this special in-person conversation with Ben Santer, atmospheric scientist, MacArthur "Genius" and Fowler Distinguished Scholar in Residence at Woods Hole Oceanographic Institution; and Kassie Siegel, Director of the Climate Law Institute, Center for Biological Diversity.

About the Award

Established in honor of Dr. Stephen H. Schneider, one of the founding fathers of climatology, Climate One's Schneider Award recognizes a natural or social scientist who has made extraordinary scientific contributions and communicated that knowledge to a broad public in a clear, compelling fashion. Past winners include Ayana Elizabeth Johnson, Katharine Hayhoe, Robert Bullard, Jane Lubchenco, and Michael Mann.
Guests

guest

Fowler Distinguished Scholar in Residence, Woods Hole; Visiting Researcher, UCLA

2023 Winner

guest

Director, Climate Law Institute, Center for Biological Diversity