The Commonwealth Club of California is the nation's oldest and largest public affairs forum, bringing over 400 annual events on topics ranging across politics, culture, society and the economy to more than 20,000 members.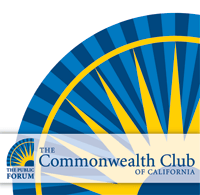 Founded in 1903, The Commonwealth Club has been home to impartial discourse across the arts, sciences, politics, and the economy. It's also had a long-standing interest in environmental concerns.
In 1911, Theodore Roosevelt delivered a speech at The Commonwealth Club, in which he outlined the idea of public land conservancy. Since then, many leading politicians, scientists, and activists have spoken about environmental stewardship at The Commonwealth Club events. Its weekly radio broadcast, the oldest in the nation, is carried on over 230 public and commercial radio stations.
In 2007, The Commonwealth Club CEO Dr. Gloria Duffy created Climate One as a special project housed at The Club and focused on energy, the economy, and the environment. It is led by Greg Dalton, former Chief Operating Officer of The Commonwealth Club. Under the auspices of The Commonwealth Club and drawing on its rich history, Climate One produces its own radio broadcast and podcasts reaching thousands of listeners worldwide.
Learn more about The Commonwealth Club here.