Mike Sangiacomo believes in challenging the plastics industry to design products that can be reused and remanufactured. The president and CEO of Recology, the Bay Area's primary waste hauler, Sangiacomo is responsible for leading Recology in its support of San Francisco's recognition as the "greenest" major city in the nation.
Sangiacomo has been involved with integrated resource recovery since 1983, when he was recruited to be the chief financial officer of Sunset Scavenger's parent company. He has served as a member of the Recology board of directors since 1990, as a board member of the San Francisco Chamber of Commerce from 1998 through 2004, and as a member of the University of San Francisco School of Business and Management Advisory Council. In 2014, he joined the board of the California Historical Society, the official historical society of the State of California, and was elected its Vice President in 2015.
In 2008, Sangiacomo was honored as the city's "sustainability leader" in the San Francisco Business Times' annual celebration of San Francisco's most admired CEOs. He earned a B.S. in Business Administration with an emphasis in accounting from the University of San Francisco.
Recordings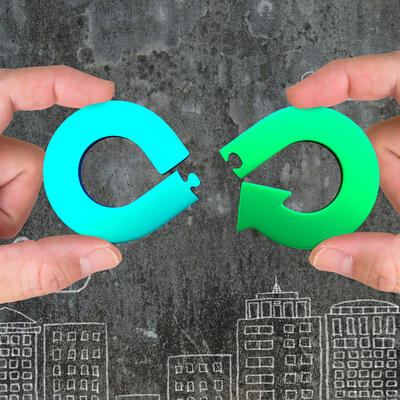 Podcast
June 21, 2019
Produce, consume, discard: we all know the routine. Raw materials are extracted, produced into goods, and used – sometimes only once – before…